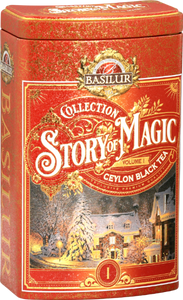 Celebrate this magical season with this delicious blend infused with festive flavours. Each sip will add an extra spark to your holiday spirit, this is ideal to be shared with family and friends.
Ingredients: Pure Ceylon black leaf tea with natural marigold flower, and natural flavour Sparkling Star (lemon & mango).
Metal Caddy with 85g Loose Leaf Tea Packed in Foil Resealable Pouch. 
Packed in foil pouch with zipper to preserve the freshness of your favourite tea.