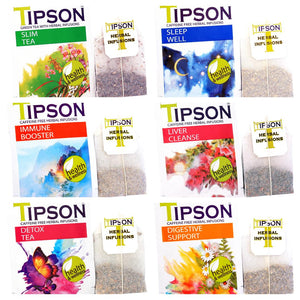 The Assorted pack contains 30 Enveloped Teabags (Staple & Plastic-Free), 6 of each flavour below:
DETOX TEA – Natural coriander seed, peppermint, lemongrass, juniper berries, ginger, turmeric, cardamom and black pepper.
IMMUNE BOOSTER – Natural rosehip, marjoram, basil, Organic rooibos, liquorice and lemongrass. 
DIGESTIVE SUPPORT – Natural peppermint, coriander seed, fennel seed, ginger, liquorice root and cardamom.
SLEEP WELL – Natural basil, camomile, lemongrass, ashwagandha and nutmeg.
SLIM TEA – Pure Ceylon green tea, natural rosehip, curry leaves, cinnamon and garlic.
LIVER CLEANSE - Natural dandelion, turmeric, coriander seed, fennel seed and curry leaves. 
Tipson has carefully selected nature's most precious natural ingredients to present you with an array of herbal infusions and teas. Each blend of herbs is packed with Vitamins and antioxidants and is rich in many nutritional properties. Every sip will leave you feeling rejuvenated with a boost of energy. Start your day feeling energized or end a long day feeling relaxed and calm. This sensational range is ideal for any time of day and for your total well-being.