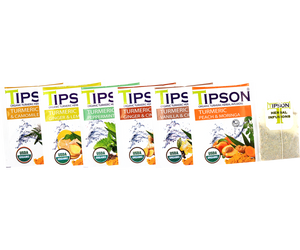 The Assorted pack contains 30 Enveloped Teabags (Staple & Plastic-Free), 5 of each flavour below:
GINGER & CINNAMON - All Organic lemongrass, cinnamon, ginger, turmeric and basil.
GINGER & LEMON – All Organic lemongrass, ginger, turmeric, chamomile, basil and natural flavour lemon.
PEACH & MORINGA – All Organic lemongrass, moringa, turmeric and natural flavour peach.
PEPPERMINT & CLOVE – All Organic lemongrass, clove, chamomile, turmeric, peppermint, moringa and basil.
CHAMOMILE – All Organic chamomile, turmeric, lemongrass and basil.
VANILLA & CINNAMON - All Organic cinnamon, lemongrass, turmeric, chamomile and natural flavour vanilla.
⭐️ A VERY HEALTHY HERBAL TEA: Turmeric's health benefits have been known since ancient times. Its teas have long been made into medicinals for its anti-inflammatory and pro-digestive properties. It's now being proven a powerful weight loss supplement.

⭐️ ENJOY THIS INVIGORATING CAFFEINE-FREE HERBAL TEA: Our assorted flavor packs include 10 each of vanilla & cinnamon, ginger lemon, peppermint clove, turmeric chamomile and peach moringa. Each will leave you feeling naturally cleansed and rejuvenated.
⭐️ USDA CERTIFIED: Our collection of turmeric teas are USDA certified organic, gluten-free and non-GMO, so you know it's good for your health with regular consumption. We demand premium quality tea from origin to cup for your good health and enjoyment.

⭐️ 25 BLEACH-FREE DOUBLE CHAMBERED TEA BAGS IN FOIL ENVELOPES WITH NO PLASTIC OR STAPLES: Our organic tea collections are presented to you enveloped for freshness. The tea bags are made of bleach-free wood pulp free of staples. We ensure our teas are as pure and delicious as can be for your enjoyment.