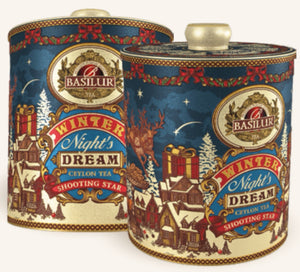 The nights are cold, dreamy and Pure! Not ordinary, but the magic of winter. While the stars twinkle in the winter nights sky, grab a sweater, a beloved book and a delectably warm and soothing cup of Basilur Tea to make Winter Nights Dreamier! 
Ingredients: Pure Ceylon black leaf tea with  cornflower, and natural flavours Candy Floss, Raspberry & Vanilla.
Metal Caddy with 100g Loose Leaf Tea Packed in Foil Resealable Pouch. 
Packed in foil pouch with zipper to preserve the freshness of your favourite tea.